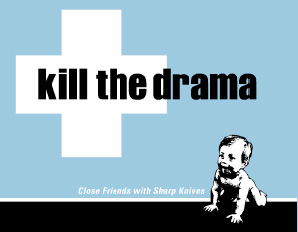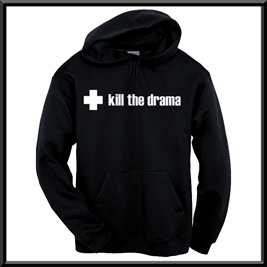 Kill the Drama - Hooded Sweatshirt with Classic KTD logo
| | | |
| --- | --- | --- |
| | You asked for it and the KTD store delivered! Warm and comfortable high-quality Hooded Sweatshirt featuring the Classic Kill the Drama Logo. Black with White print. Unisex sizes. Make a statement with a Kill the Drama hoodie! | |


Please click on the sizing chart link located beneath each item's picture to ensure a proper fit.
US orders: Now Accepting Check or Money Orders...click here!
Non-US: Now Accepting Money Orders made in US Dollars... click here!
Payments can be made with a major Credit Card or with a valid Paypal Account. Paypal also processes international funds. .
This site uses a secure PayPal interface. Your information is mitigated through PayPal as a third party payor and is secure, never being shared with Kill the Drama Store. To find out more about the security and reliability of PayPal click here
For international shoppers, PayPal converts your currency to US Dollars instantly upon checkout. To learn more about international shopping through PayPal and this website click here
If you have any questions on concerns about security, order placement, or simply want referrals from people both in US and abroad who have shopped the KTD online store safely and securely please email ktdstore@killthedramamusic.com